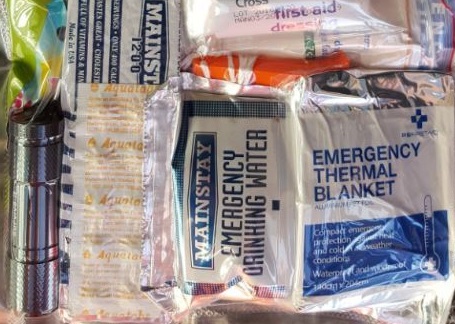 We have developed a new range of grab and go backpacks in
consultation with several large customers. These grab and go options involve
vacuum packing the contents in a triple-sealed, thin insert. There will be a
slit in the outer seal, so that in the event of an emergency the insert can be
ripped open.
We can customise and create contents for the vac-packed
inserts based on your requirements or budget restrictions. We have several
options for storage packs: a drawstring bag, folding backpack, or our standards
24L backpack.
We use high-quality, durable vacuum bags that will last.
The contents have a four-year shelf life – potentially up to
five years – before anything needs replacing.
With the move to hot desking as a common practice in offices,
it might help to store the kits in a high-visibility orange cabinet such as our
civil defence cabinets.
These have shelving that can accommodate packs or store any emergency food and
water you have for the site.
If you run a vehicle fleet, we can create and customise a
vacuum-sealed emergency kit for your vehicles, and ensure the kits are kept
intact and complete. If a kit has been used, we can supply any missing items
and reseal the pack to ensure your team is catered for in the event of an
emergency.
How do vacuum packed
disaster survival kits help?

Reduces pilfering. Torches and whistles are the
items that most often go missing from emergency backpacks and cabinets. There
is less chance of this happening if someone has to rip open a vacuum pack.
Storage requirements reduced as vac packs take up
a lot less room. The vac packs can also fit inside existing storage such as
backpacks.
Easy to use. It's easy for each staff member to grab
their vac pack in the event of an emergency.
Easy to keep updated. Vac packs have 4 to 5-year
lifespan. When that time comes around, items can be replaced, and the bag resealed.
Bespoke vac packs. We can vac pack any type kit
for vehicle, home, office, etc.
Makes emergency packs more useful. When all
emergency items are in a vac pack, things like spare clothing and shoes can be stored so they
don't get caught up with the emergency supplies.
Airline emergency packs can be vacuum packed, so
they meet new airline safety criteria.
Easy storage of emergency packs not assigned
to a specific staff member – particularly useful in hot-desking office
settings.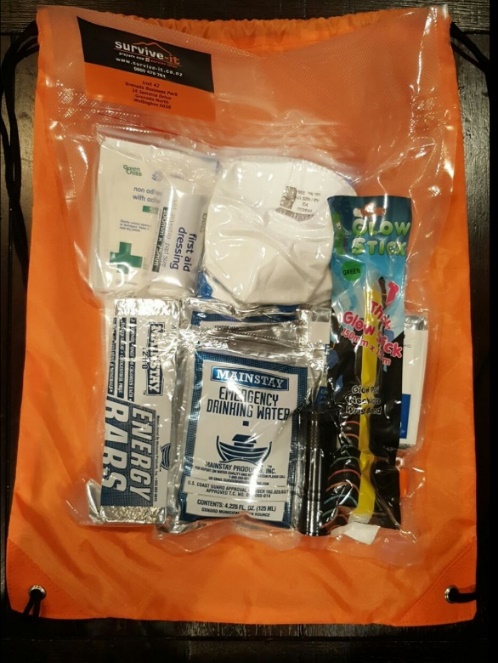 Vac pack emergency
kit options

The vac pack survival kit pictured is an example of
what we can supply. It contains:
Mini first aid kit
Mainstay 1-day food ration
Light sticks
LED mini torch with batteries
Moulded face mask
High decibel whistle
Emergency foil blanket
Adult poncho
3 x 125ml Mainstay water sachets
Aquatab water purification tablets.
We can supply a drawstring bag or backpack to carry the
vacuum-packed inserts.
We stock vacuum packed survival bags in a variety of
configurations: with or without water, food, gloves, and first aid.
Check out more of
our vac pack grab n go bags.
Contact us for
a customised vac pack solution to meet your survival kit needs and requirements.